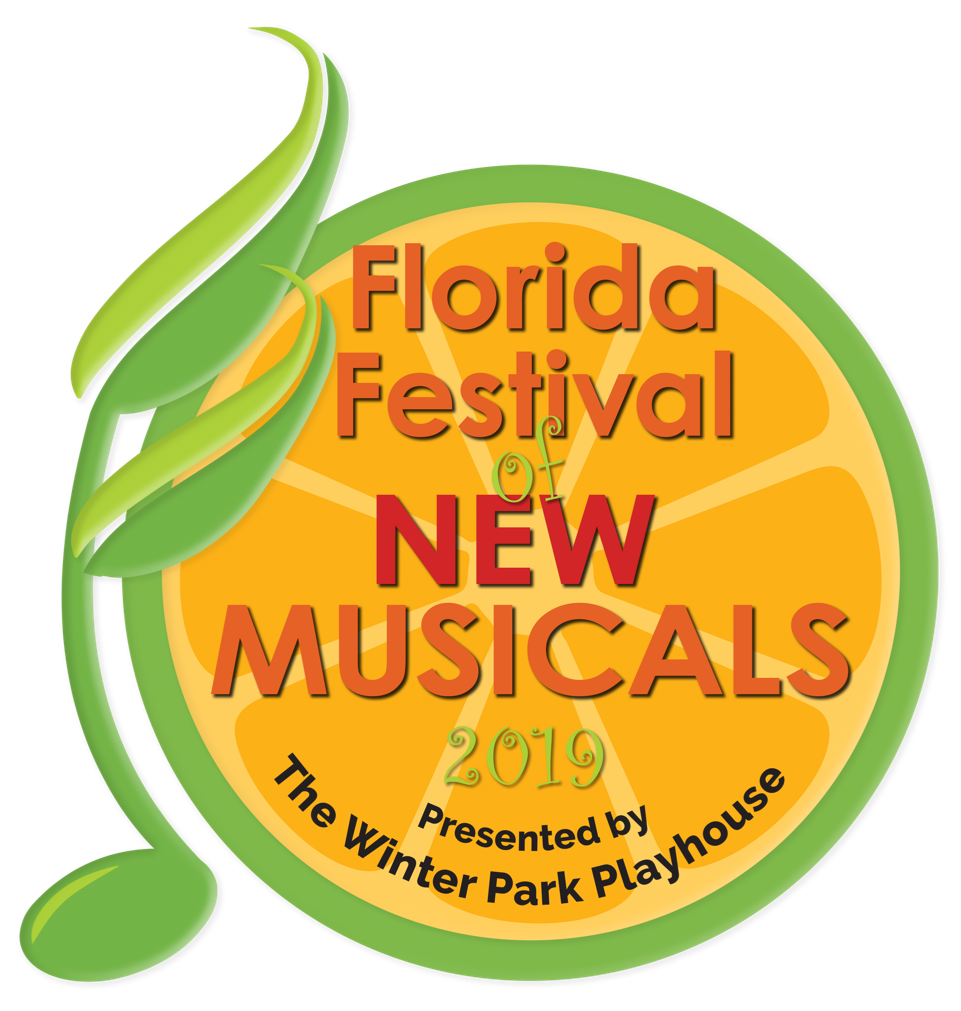 Auditions for the 3rd Annual Florida Festival of New Musicals
by appointment on Tuesday, April 9 & Wednesday, April 10, 2019

The Florida Festival of New Musicals has been created by The Winter Park Playhouse to advance and elevate the genre of musical theatre by fostering the development of new musicals and the artistic growth of writers and composers. The four-day festival will run June 20-23, 2019 at The Winter Park Playhouse and will showcase brand new never-before-produced musicals. The first act or a one-hour version of each musical will be fully read and sung concert-style, without staging, by varying casts of professional actors and musicians.
The Winter Park Playhouse will hold auditions for the 3rd Annual Florida Festival of New Musicals on Tuesday, April 9 from 3 to 9 p.m. and Wednesday, April 10 from 11 a.m. to 5 p.m.
All ethnicities are strongly encouraged to attend!
Auditions are by appointment only and will take place at The Winter Park Playhouse, 711 Orange Avenue, Suite C, Winter Park, FL 32789. Please call (407) 645-0145 to schedule an audition time.
The Playhouse is seeking professional Equity (Staged Reading Contract) & Non-Equity musical theatre performers. Housing is not provided.
Audition requirements:
Prepare 16-32 bars of an up-tempo and a ballad (classic musical theatre pieces preferred) and a one-minute comic monologue.
Bring sheet music in your key; an accompanist will be provided. No tapes or CDs permitted.
Please bring THREE (3) non-returnable headshots and resumes.
Please see the casting breakdown that follows for the show titles and available roles.
BETWIXT AND BETWEEN
Book and Lyrics by Kate Hanenberg and Ned Paul Ginsburg
Music by Ned Paul Ginsburg and Mary Lloyd Butler
Setting 1652, Gloucestershire, England
GEORGE BATHCHFORD: Male, 40s-50s. Estate overseer.
SAMUEL WIDDISON: Male, late 40s. Merchant of London.
JOEL WIDDISON: Male, early 20s. Samuel's elder son.
JONATHAN WIDDISON: Male, 9. Samuel's younger son.
MRS. DIMBLEDY: Female, 60s-70s. Samuel's mother-in-law, mother to his first wife.
RACHEL WIDDISON: Female, 30s-40s. Samuel's second wife.
DILIGENCE GRIMSBY: Female, 15. Rachel's daughter.
URSULA: Female, 50s. Servant. Double cast as MADAM FETTIPLACE, aristocratic neighbor.
MOTHER DARKE: Mysterious wanderer, mid-30s.
ANNE SECKAR: Gentlewoman, 20s.
CHORUS/MORRIS DANCERS (3 men; 1 woman) The tradition of Morris Dancing, an expression of the interconnectedness of folk beliefs and the agricultural year. The role of the Dancers in our piece is that of chthonic deities, who embody the link to a mythic past. They also serve as chorus members, dancers, villagers, soldiers and create the set itself.
FLAMING VOLCANO BED & BREAKFAST
Book, Lyrics, and Music by Ned Wilkinson
Setting: 2017, Athens, Georgia
KAREN: Female, early 60s. Widow, new small business owner. Has the "southern hospitality gene" but hasn't had enough opportunity to develop it until now. Struggles with self-doubt and loneliness but keeps it mostly hidden.
ANNIE: Female, 30s. Marketing executive, married to Dave. Type A personality, no-nonsense, professional appearance, somewhat judgmental of the perceived weaknesses of others.
DAVE: Male, 30s. App developer, married to Annie. Free spirit, easily distracted and prone to tangents, but softens Annie's edges.
TINA: Female, 30s. High school math teacher, married to Chris. Overworked and on the edge of burnout. Tina and Chris have two teenagers who aren't characters but figure into the story.
CHRIS: Male, 30s. High school physical education teacher, married to Tina. Coping better than Tina but not necessarily because his mechanisms are better.
GOOD GIRLS ONLY
Book and Lyrics by Charles Leipart
Music by Jamey Grisham
Setting: New York City over six decades
HELEN: Female, 30s. The 1930's Girl.
MARY ALICE: Female, 20s. The 1960's Girl.
BOBBIE: Female, 20s. The 1940's Girl.
GLADYS: Female, late 20s, African-American. The 1920's Girl; double cast as DEIRDRE, the 1970's Girl.
DENNY: Female, 50s. The 1950's Girl; double cast as The CHARACTER LADY.
YOUNG MAN: 20s.
CHARACTER MAN: 40s.
GRACE AND THE ISLAND OF MISFITS
Book and Lyrics by Jennifer Enchin and Jaclyn Enchin
Music by Dylan MarcAurele
Setting: 2014, Sheboygan, Wisconsin
GRACE: Female, early 20s. A scrappy, confident recent college grad. Extremely intelligent, astrophysics major who likes to be in control. Loves to read and obsesses with the stars, universe and new worlds.
NIKKI: Female, early 20s. A ray of sunshine personified. Sees the world from an idealistic perspective and believes in magic. Doesn't think before she speaks.
CHARLOTTE: Female, 50s-60s. A shift manager who is over the top, mean, aggressive and demanding. Worked her whole life to get where she is. Doubles as CHARLOTTA, Santa's evil older sister. A larger-than-life villain and bitter to her core.
DAD: Male, 40s-50s. Upstanding, do-gooder. Golfs and wears sweater vests.
SCHMEDRICK: Male, early 20s. Charlotta's elf assistant. A push over, clumsy, apologetic and sensitive.
KARAOKE/CUSTOMER: Adult Female, any age. Punk rocker with lots of charisma. Lives to inspire with music.
MOTHER/ MOBILE/CUSTOMER: Adult Female, 40s-50s. Mobile is sage like. Grace's beloved childhood toy.
FUN OVEN SUPREME/CHILD/ELF 1: Female, age 8-12. Loud, a bit clueless
PUZZLE CUBE/CHILD/ELF 2: Male, age 8-12. A bit of a geek.
KING MOONRACER/CUSTOMER/TOY: Adult Male any age. Flying Lyon rules the Island of Misfits. Fun dad energy.
GAME DUDE/CUSTOMER: Adult Male any age. Fun, party-time jock who lives for the thrill.
BARBARA/CUSTOMER: Adult Female any age. Total girly, girl.
ABOMINABLE SNOW MONSTER/SANTA/CUSTOMER/TOY: Male, 40s-60s.
NO NEED FOR TROJANS
Book and Lyrics by Bryan Leys
Music by James Campodonico
Setting: 411 B.C. in Athens, Greece
LYSISTRATA (LIZ): Female, 20s. A loud young woman. Soprano.
CRONIA: Female, 50s-60s. Liz's outrageous nanny. Alto.
CALLIOPE: Female, 30s. Saucy, attractive, Athens' most famous hooker. Alto.
MYRRHINE: Female, Mid-20s, Athens' most famous prude. Soprano.
GERIAKTOS (GERRY): Male, 50s-60s. A scientist, aide de camp, former boyfriend of Cronia. Tenor.
PLUTONIUS: Male, 30s. Leader of the Athenians. Tenor.
LAMPITO (PETE): Female, Mid-20s. Wife of the Spartan Ambassador. Soprano.
KENESIUS/SOLDIER: Male, 30s. Superstitious general of the Athenian Army. Baritone.
PHALLIUS/SOLDIER: Male, 30s+. The Spartan Ambassador. Tenor.
ANDROGYNOS (ANDY)/SOLDIER: Male, 18. Companion to Phallius. Tenor.
THREETIMESFAST
Book by Naomi Matlow and Teresa Lotz
Lyrics by Naomi Matlow
Music by Teresa Lotz
Setting: Present Day
OLIVIA: Female, 15. Shy but eccentric in the way that nerdy teenagers often are. She is very imaginative and dreams of being a Hollywood film director. Olivia suffers from Obsessive Compulsive Disorder. Soprano.
TISH: Female, 17. Olivia's older and more outgoing sister. She wants to be a cosmetologist. She's popular and thinks she knows everything and reads a lot of Cosmo. Mezzo.
LEE: Male, 18M. Tish's boyfriend of over a year. A lovable slacker. Tenor.
CAROL: Female, 40s. Olivia and Tish's mother. Very Type A. Tries very hard and has worked hard to get where she is now. Alto.
PAUL: Male, Latino, 40s. Carol's fiancé and a doctor. He is not afraid of commitment. Bari-tenor.
EDDIE: Male, 40s. Olivia and Tish's biological father. Reserved and introverted, with a big heart. He had a psychological breakdown that led to the end of his marriage with Carol. Bari-tenor.
VALERIE/ENSEMBLE: Female, 30s. A confident and passionate mental health counselor who specializes in Cognitive Behavioral Therapy. Mezzo.
DR. HARBISON: Male, 50s. A clinical psychiatrist who works in a hospital and does new patient intake far too often in his day. Tenor.
BRIDGET/ENSEMBLE: Female, 18. Tish's best friend. Her parents are important in the community and are good friends with Carol. People often assume she's stupid.
SHELBY/ENSEMBLE: Female, 17F. Olivia and Tish's cousin (on Carol's side) and friends with Bridget. She's pretty and popular.
The Winter Park Playhouse is an equal opportunity employer, dedicated to a policy of non-discrimination in employment on any basis including age, race, color, religion, national origin, sexual orientation, marital status or veteran status, the presence of a non-job related handicap, genetic information or any other legally protected status. The Winter Park Playhouse is a 501(c)(3) non-profit charitable organization and is proudly affiliated with Actors' Equity Association, the professional union of stage actors and stage managers, and the National Alliance of Musical Theatres.
RETURN to The Winter Park Playhouse HOME