General admission(single ticket for the reading of one new musical)$10
Florida Festival Fun Pass(Purchase 6 readings and only pay for 5!)$50

To purchase festival tickets, click on the button above or call the box office at 407-645-0145. The online ticketing system will automatically apply the Festival Fun Pass pricing to your cart after you have selected a performance of each new musical.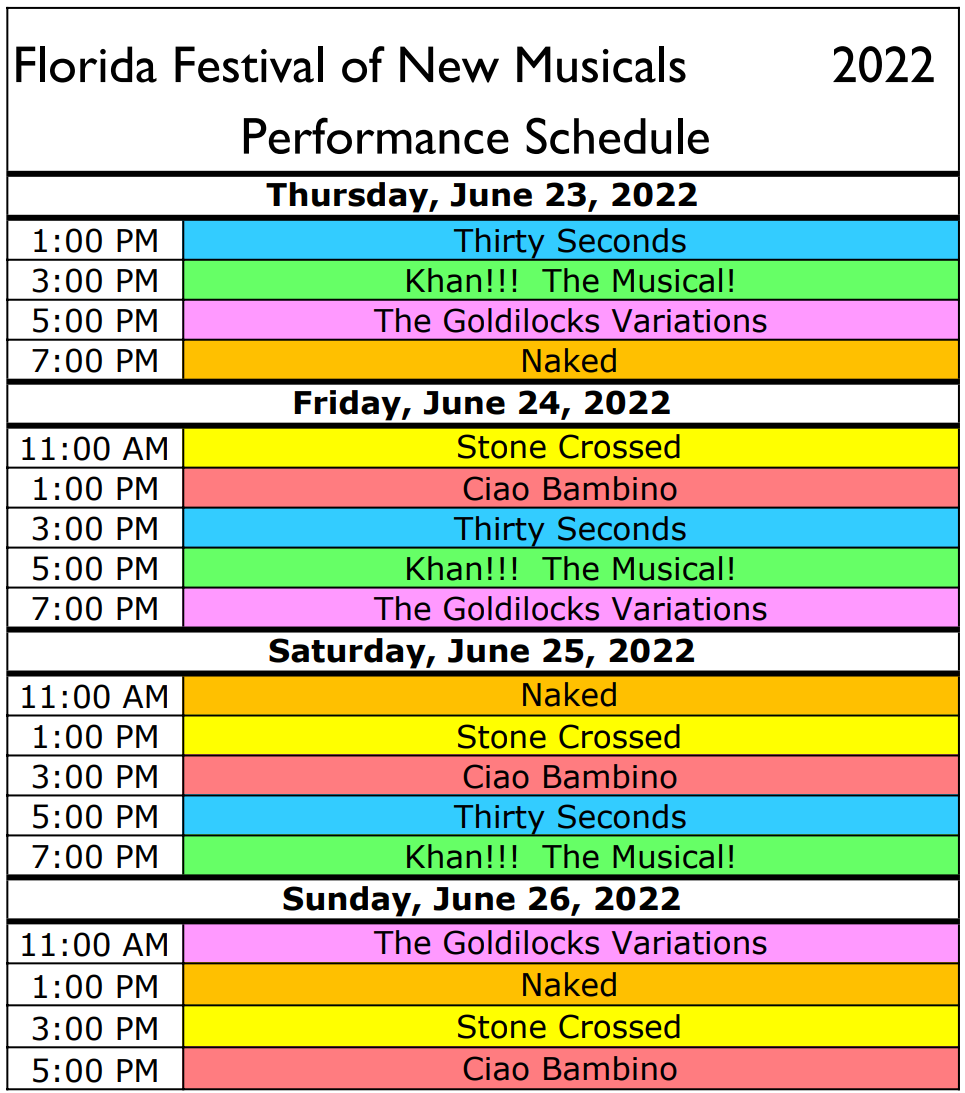 ---
Ciao Bambino
Music, Lyrics, & Book by Elizabeth Allen Turner (Miami, Florida)Orchestrations & Arranging by Andreas Häberlin (Berlingen, Switzerland)
An original Italian-American, family-friendly musical, Ciao Bambino's music and lyrics were composed by Elizabeth Turner whose great-grandparents arrived at Ellis Island from Italy, providing her with unique insight into the Italian immigrant experience and inspiring her to craft a uniquely cultural musical.

Khan!!! The Musical! An Unauthorized Parody TREK-tacular
Music, Lyrics, & Book by Brent Black (Philadelphia, PA)Co-conceived and additional material by Alina Morgan (New York, NY)
It is 2366, and Data the android is presenting his campy musical adaptation of The Wrath of Khan. In this sci-fi send-up, an older Captain Kirk is experiencing a "coming of middle age" story when his nemesis Khan escapes exile and vows revenge. The ensuing cat-and-mouse game sparks an adventure that includes Vulcan tap dancing, Kirk's long-lost son (a William Shatner impersonator), and of course... mutant space chickens!

NAKED
Book & Lyrics by Germaine Shames (Tucson, AZ) Music by Tareq Abuissa (Madison, WI)
When a second-tier American art museum unexpectedly receives Manet's Le Déejeuner sur l'herbe on loan for a landmark exhibition, the curator's wife learns a lesson in art history, l'amour, and the necessity of following one's dreams.

Thirty Seconds: A Musical
Book & Lyrics by Michael Rogers (New York, NY)Music by Bill Wandel (Howell, MI)
It's the 1950s and a virtuous young adman soars to success by taking credit for the ideas of his creative partner, a talented woman, who suppresses her own desire for advancement and recognition out of love.

Stone Crossed
Music, Lyrics, & Book by Philip David Stern (Burlington, VT)
In the land of Arkose, a fault line divides two groups of people who have been taught to fear each other and to not cross the trembling divide.  When young Stoney accidentally steps into the other territory, he meets Jewel and their lives are changed forever. Against the rules they decide to run away but circumstances arise leaving Stoney and Jewel and the two groups in crisis. In the end, through the help of the healer, both sides realize they are more the same than different, and they must walk into the future as one.

The Goldilocks Variations
Concept by Steve Wolf (Seattle, WA) Music by Charles Baker (Everett, WA)Book and Lyrics by Steve Wolf and Charles Baker
Tensions have simmered in the Bear household for years, and when sullen teen Goldilocks walks away from her own family drama, she lands squarely in another. With a nod to Akira Kurosawa's Rashomon, four very different versions of the story we all thought we knew are told to a reporter whose job is on the line.