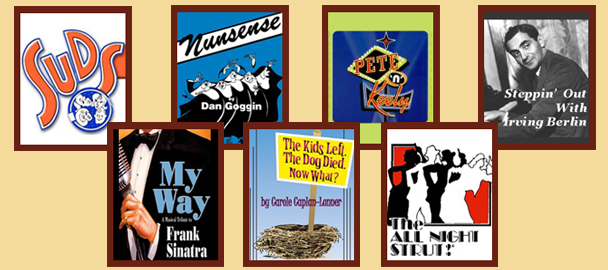 (Click images above for show descriptions and dates)
Subscriptions for the 2014-15 series go on sale April 15!
SUDS The Rockin' 60s Musical Soap Opera
June 21- July 1 & July 12-21, 2012- Click Here for Showtimes

Created & Written by Melinda Gilb, Steve Gunderson, Will Robertson & Bryan Scott. Musical & vocal arrangements by Steve Gunderson. Set in a Laundromat in the 1960's, this delightful musical comedy tells the story of Cindy and the wacky guardian angels sent to turn her life around! Featuring 40 hit songs of the 60's including "Mr. Postman," "Loco-motion," "Respect," and "Where the Boys Are." You'll fight the urge to sing along!

"All in good fun and quite good fun… an all-out, straight-out, knock-'em-in-the-aisles cast, often dueling to top one another as the spectators cheer." - Jerry Talmer, New York Post"

"The best songs of the 60's… a lot of humor and a helluva lot of talent!" - Frank Meyer, Variety

"They whistled.. They hollered and clapped and stomped.. 'Suds' is polished to near-perfection... Solid gold nostalgia." - Los Angeles Times

"Every line, every note, every step entertains..." - San Diego Reader

To learn more about the show, click here!

Hit Off-Broadway Musical!
NUNSENSE
August 2-25, 2012- Click here for Showtimes

Book, music and lyrics by Dan Goggins. This hilarious musical is the winner of 4 Outer Critics Circle Awards including "Best Off-Broadway Musical." When the Little Sisters of Hoboken discover their cook, Sister Julia, Child of God, has accidentally poisoned 52 of the sisters, they put on a variety show to raise funds for their burials!
"A hail of fun and frolic! Wacky and outrageous with a hysterical anything goes sense of fun!"- N.Y. Times
"You don't have to be Catholic to love Nunsense!" - Entertainment Tonight
"Inspired madness! Go see it!" - Jewish Post and Opinion
"Guaranteed to lift your spirits…Very, very funny."- National Catholic News

To hear music from the show, click here!


Hilarious Off-Broadway Musical!
PETE 'N' KEELY
September 13- October 6, 2012- Click here for Showtimes

Staged as a live taping of a 1968 television special that reunites a divorced singing duo, this kitschy spoof had New York critics singing its praises. As Pete and Keely stroll down memory lane (in eye popping costumes) reprising songs from their days of stardom, they take "unscripted" swipes at each other that dredge up hilarious moments from their turbulent past. This small scale musical from the director of When Pigs Fly and the producer of The Mystery of Irma Vep features unforgettable renditions of the era's popular favorites as well as original songs in the spirit of the times.
"Campy [with] nostalgic belly laughs."-N.Y. Times
"A rattling good time.... The score is a mix of golden oldies, including a clever travelogue made of songs about every state in the Union, and silver newies.... A snappy scenario emerges ... [that] should leave no one unsmiling." New York Magazine "The brightest, happiest, and most entertaining little show in town."- New York Observer
"A sequined, bell bottomed parade of escalating fabulousness!"-Newsday

To learn more about the show, click here!


World Premiere!
STEPPIN' OUT WITH IRVING BERLIN
November 8-18 & November 29- December 15, 2012- Click here for Showtimes

Created by Roy Alan, Chris Leavy & Todd Allen Long. Celebrate the life and career of this iconic American composer with this outstanding song and dance tribute! Featuring a collection of favorite songs including "Blue Skies," "Puttin' on the Ritz," and "Steppin' Out With My Baby."

To hear music from the show, click here!


Central Florida Premiere!
MY WAY A Tribute to Frank Sinatra
January 24- February 16, 2013- Click here for Showtimes

Created by David Grapes & Todd Olson. Book by Todd Olson. Take a stroll down memory lane with this loving tribute to "Ol' Blue Eyes," one of the greatest entertainers of the 20th Century. With career successes spanning more than 50 years, you're sure to love this must-see musical!
"If the human race exists for another couple million years, could anyone ever hope to bring the same sense of playful romance to 'I've Got You Under My Skin' that Sinatra did? Or the kind of existential heartbreak that he brought to 'Guess I'll Hang My Tears Out to Dry'? It's entirely likely that as long as people listen to music, they'll be appreciating Frank Sinatra." - Washington Observer Reporter
"…you'll marvel at the range of Sinatra's repertoire and get a kick out of this musical trip down memory lane." - Pittsburg Post Gazette
"This is no nostalgia-ridden blast from the past. It's a fresh, entertaining evening of great music sung well and with intelligence." - Pittsburg Tribune

To hear music from the show, click here!
Central Florida Premiere!
THE KIDS LEFT, THE DOG DIED, NOW WHAT?
March 7-24 & April 3-6, 2013- Click here for showtimes

Book, music & lyrics by Carole Caplan-Lonner. Aging gracefully is the final frontier!! As introduced on NBC's "Today Show," this is a musical comedy that salutes those valiantly struggling with divorce on their hands, gravity on their bodies, grandchildren on their self-images and the dating scene on their egos. The risks and uncertainties of being alive come alive through song and scene. Aging gracefully is the final frontier!
This entertaining musical about those facing a host of midlife crisis first premiered at the New York Musical Theatre Festival in 2007. Boasting a four-person cast, the show takes a humorous and heartfelt look at the day-to-day concerns of the over-fifty "empty-nester" crowd including everything from retirement and AARP, dating to divorce, plastic surgery and grandparenting.
"Carole Caplan-Lonner's production entitled The Kids Left. The Dog Died. Now What? is just plain fun! Its target audience is clear and those of us who are empty-nesters know exactly what she is talking about!" - Stage Door Magazine

To learn more about the show, click here!

Hit Broadway Musical Revue!
ALL NIGHT STRUT
April 18- May 11, 2013- Click here for showtimes

Conceived and originally directed & choreographed by Fran Charnas. Musical arrangements by Tom Fitt, Gil Lieb & Dick Schermesser. Additional orchestrations by Corey Allen. Swing's the thing in this classy, sassy musical celebration of the 1930's and 40's! A slick slice of yesteryear with sublime music and unbeatable energy. Featuring jazz, blues and standard hits by Duke Ellington, Hoagy Carmichael, Frank Loesser, Johnny Mercer, Cab Calloway and the Gershwins!
"A bright, tuneful, totally entertaining revue... a rollicking, joyous evening!"-St. Louis Post Dispatch
"Red hot and cracking, stimulating and irresistible!"- Detroit Free Press
"Babe-ree-bopping pizzazz, high steppin' swing and slithering jive. It's sensational."- The Boston Globe

To learn more about the show, click here!