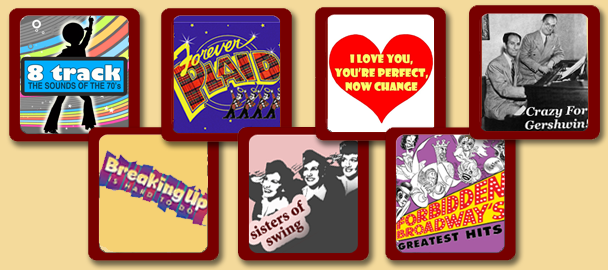 (Click images above for show descriptions and dates)
Tickets for the 2013-14 series are on sale now!
Click here for 2013-14 ticket prices

Central Florida Premiere!
8 TRACK: THE SOUND OF THE 70's
June 21-30 & July 11-20, 2013 | Preview June 20, 2013
Boogie down through 10 years of ground-breaking music! This Baby Boomers' dream come true is a fast-paced musical romp through one of the most impassioned decades of the 20th century and features the music of The Carpenters, Patti Labelle, Barry Manilow, Marvin Gaye, The Doobie Brothers, The Bee Gees, KC and the Sunshine Band, and many more!
"An infectious, joyous celebration!" Minneapolis Star Tribune




Hit Off-Broadway Musical!
FOREVER PLAID
August 2-24, 2013| Preview: August 1, 2013
Journey back to the 1950's when four young, eager male singers are miraculously revived for a posthumous chance to perform the show that never was, after being killed in a car crash on the way to their first big concert! Featuring a collection of 30 hit songs from the decade!
"Letter perfect! Sweet, funny and thoroughly amusing." The New York Times
"Screamingly funny! Entirely enchanting, utterly entertaining!" The New York Post


Hilarious Off-Broadway Musical Back By Popular Demand!
I LOVE YOU, YOU'RE PERFECT, NOW CHANGE
September 13- October 5, 2013 | Preview: September 2012
Back by popular demand!! Dubbed "Seinfeld set to music!" this musical comedy exposes everything you have ever secretly thought about dating, romance, marriage, lovers, husbands, wives and in-laws, but were afraid to admit!! The 2nd longest running show Off- Broadway!
"Hilarious! The most entertaining show on or off Broadway!" Gannett Newspapers


Original Musical Revue!
CRAZY FOR GERSHWIN!
A Tribute To George & Ira Gerswhin
November 15-24, 2013 & December 5-14, 2013 | Preview: November 14, 2013
Take a stroll down memory lane as we pay tribute to two of America's most well-loved composers of all time, George and Ira Gershwin! This high-energy song and dance celebration will put a smile on your face and a song in your heart! Featuring a collection of Gershwin favorites, including "Embraceable You," "I've Got a Crush on You," "I Got Rhythm," "Someone to Watch Over Me," and "S'Wonderful!" Who could ask for anything more?


Central Florida Premiere!
BREAKIN' UP IS HARD TO DO
January 24- February 15, 2014 | Preview: January 23, 2014
Relive all the excitement and innocence of your first kiss with this delightful, upbeat musical featuring the songs of hit songwriter Neil Sedaka. Set in a Catskills resort in 1960, this is the sweetly comic story of two friends from Brooklyn in search of romance over one wild Labor Day weekend. The score showcases 18 Sedaka classics, including "Where the Boys Are", "Sweet Sixteen", "Calendar Girl", "Love Will Keep Us Together," and the chart-topping title song.


Central Florida Premiere!
SISTERS OF SWING
March 7-29, 2014 | Preview: March 6, 2014
Follow the famous trio, LaVerne, Maxene and Patty Andrews, from their early days on the road through their rise as recording stars and entertaining American GI's overseas. The score features elegant harmonies and over twenty hit songs like "Don't Sit Under the Apple Tree," "Boogie Woogie Bugle Boy" and many more
"…a musical night to remember…a knockout offering." The Albany Daily Gazette
"A personal, witty and poignant portrait…" Miami Herald




Hit Broadway Musical Revue!
FORBIDDEN BROADWAY'S GREATEST HITS
April 25- May 17, 2014 | Preview: April 24, 2014
Laugh out loud as Broadway's greatest musical legends meet Broadway's greatest satirist in this hilarious, loving, and endlessly entertaining tribute to some of the theatre's greatest stars and songwriters.
"Consistently riotous!" The New York Times
"Gut-bustingly funny! It's a Forbidden pleasure" The New York Post