​

Sounds of Soul
An evening of storytelling through spirituals, drumming, and spoken word
★

Thursday, June 8, 2023 at 7:30 p.m.

★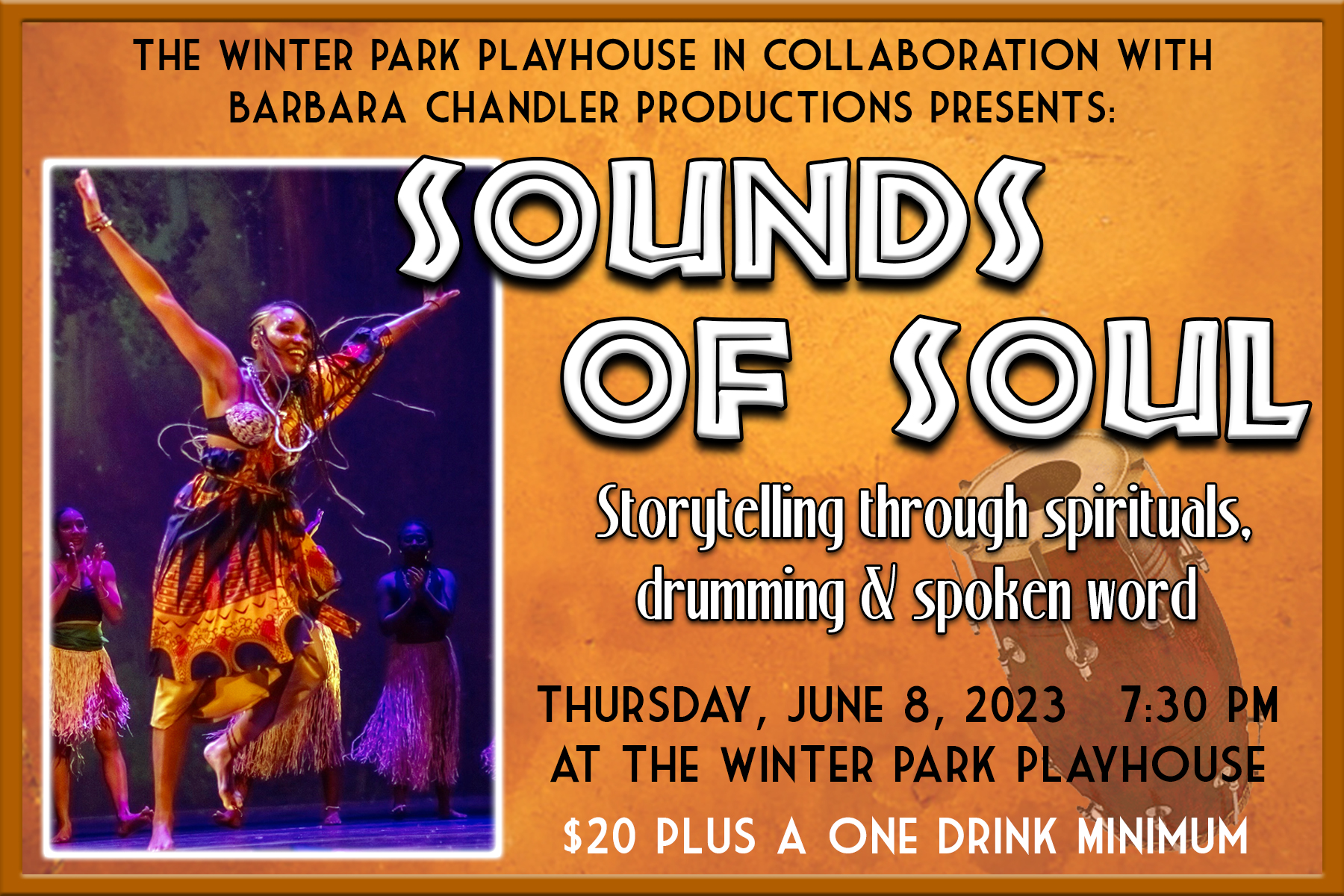 In honor of Black Music Month and as a pre-Juneteenth celebration, The Winter Park Playhouse has teamed up with Barbara Chandler Productions to present Sounds of Soul, an evening of storytelling through spirituals, drumming and spoken word. This unique one night event will take place at The Winter Park Playhouse in their beautiful lobby bar/cabaret space on Thursday, June 8 at 7:30pm.
Sounds of Soul will feature an evening of spirituals, drumming, dance and spoken word. Curtis Branson will headline the event performing gospel songs, alongside spoken word artist Jason TIE Davis and the extraordinary talents of Ajose Afrikan Drum and Dance, featuring dancer Desiree Coleman and Osabi and Oba Ogunlani on the drums.
Barbara Chandler was born in St. Thomas, U.S. Virgin Islands, and is a long time Central Florida resident. She has worked for the last decade as the manager and cultural arts educator for The Hannibal Square Heritage Center, where she educates visitors on the African-American community's contributions and impact on the City of Winter Park. She is an organizer of many educational events and cultural celebrations and oversees all of the center's operations.
"I am excited to present Sounds of Soul, a musical performance inspired from the African-American diaspora. Gospel is sung as a way to uplift the spirit and activate faith. Drumming along with chants and dancing are ways to communicate. Storytelling is an oral tradition used to preserve history, educate, and instill values and morals in Black communities," confirms Barbara Chandler.
General Admission tickets to Sounds of Soul are $20 plus a one drink minimum. Seating is limited so advance reservations are strongly recommended. Doors open at 6:30 p.m. for a 7:30 p.m. show.

David Jericko and The Crew in
Elvis: Aloha from Vegas
★

Thursday, June 15, 2023 at 7:30 p.m.

★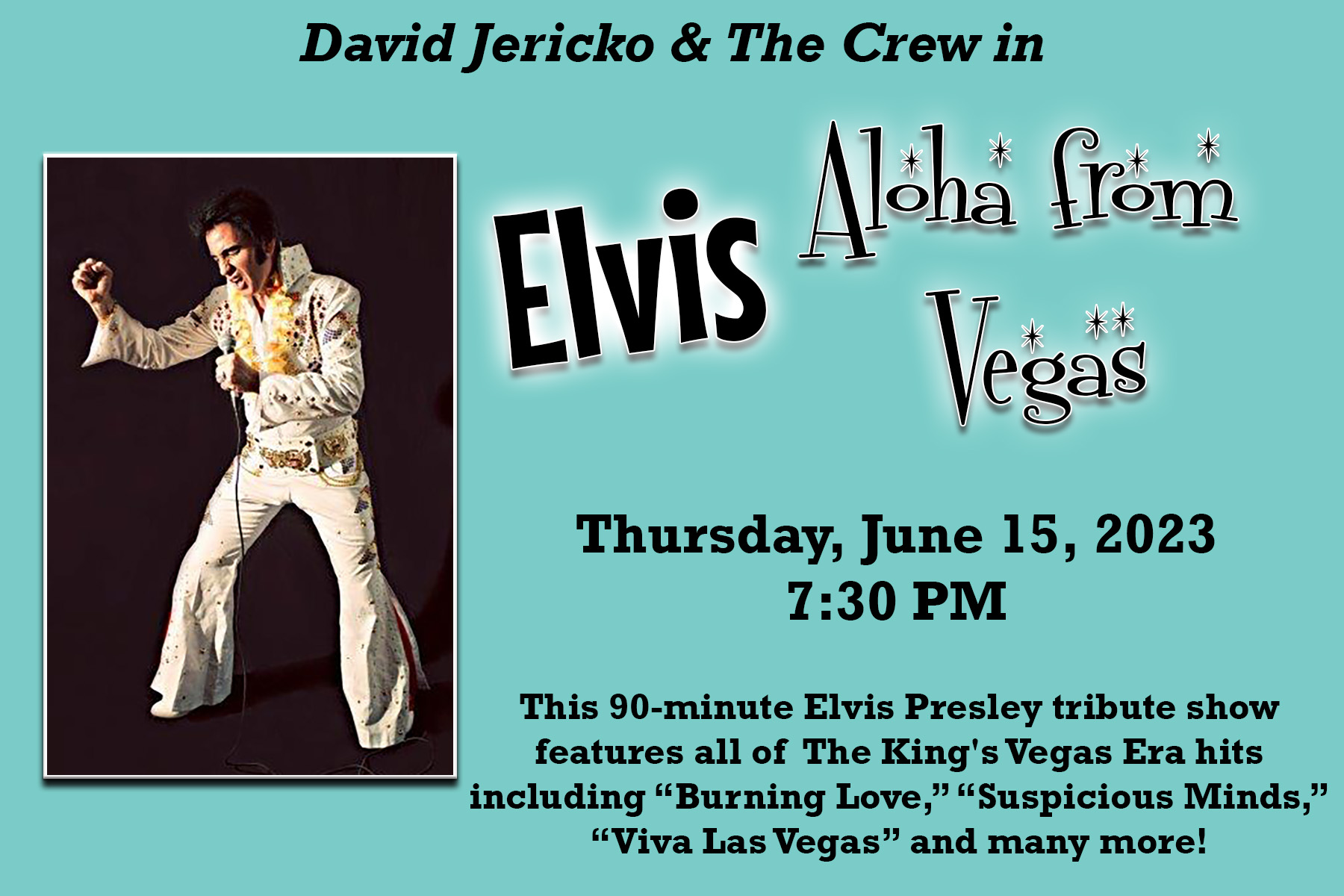 As part of its popular One-Night-Only Series, The Winter Park Playhouse will present Elvis: Aloha From Vegas on Thursday, June 15, 2023 at 7:30 p.m.
This special 90-minute, one-night-only show will be held at The Winter Park Playhouse with the net proceeds going to support the Playhouse and its year-round musical programming onstage and out in the community.
Elvis: Aloha From Vegas features award-winning performer David Jericko as Elvis Presley. Mr. Jericko will pay tribute to Elvis during his famous Las Vegas years and perform the well-known hits that rocked the pop music scene. Audiences will be treated to a score of songs including "Viva Las Vegas," "Burning Love," "Suspicious Minds," "Can't Help Falling in Love," and many more! Jericko will be accompanied by his professional band The Crew.
Chicago-born David Jericko has been performing since he was a child. His strong musical theatre background is a perfect complement to bringing Elvis to life onstage. As one of the premiere Elvis impersonators in the nation for over a decade, David will have audiences dancing in the aisles with his tribute to "The King."
The Playhouse's One-Night-Only events are very popular and consistently sell out. Tickets for this event go on sale March 15 at 11 a.m. and are $65.