Another unique entertainment option at The Winter Park Playhouse is our Spotlight Cabaret Series in the beautiful lobby piano bar. Different professional singers are featured in this monthly series and the New York-style cabaret performances are approximately 55 minutes in length with no intermission. Tickets for this very popular offering are $20. Students must be 15 years of age or older to be admitted to our cabaret series.
Tickets for this very popular offering are $20 with a one drink minimum. Advance reservations and early arrival are strongly recommended as seating is limited. Tickets can be purchased online or by visiting or calling the box office at (407) 645-0145.

Carol Stein
Songs of the Seasons!

Virtual encore viewing: June 2–5, 2023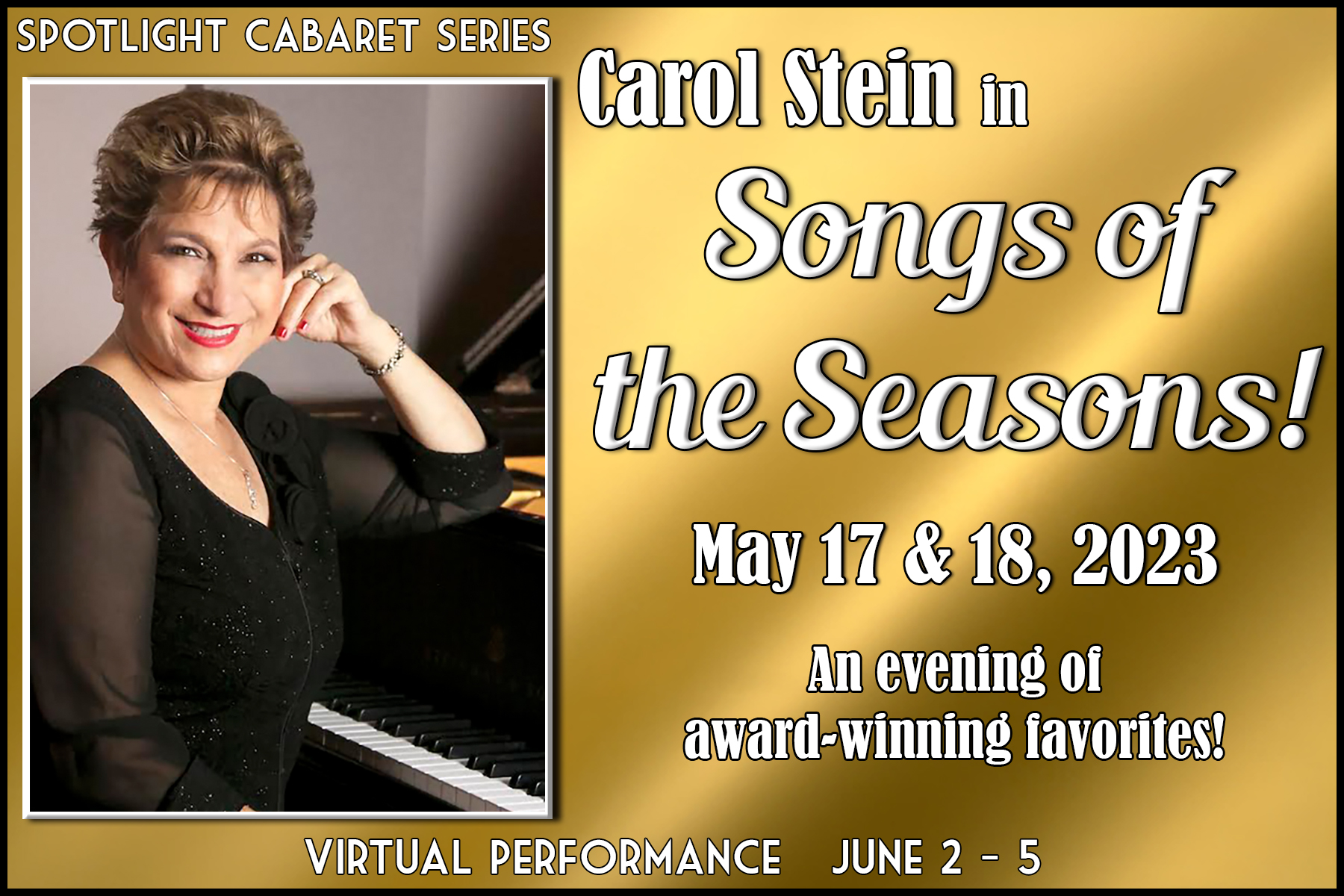 Pianist, vocalist, composer, and all-around outstanding entertainer Carol Stein performed her latest solo cabaret Songs of the Seasons! in the theatre's Spotlight Cabaret Series on May 17 and 18, 2023.
Carol Stein, a world-renowned performer (born in Miami, Florida) began her classical piano studies at age four. She achieved her Masters Degree from the University of Florida and then lived abroad for many years. Her travels as a musician brought her to Montreux Palace in Switzerland, The Century Court in Tokyo, The Oasis Lounge in Hong Kong, Carnegie Hall in New York, and back to Walt Disney World in Orlando, Florida.

Carol enjoys composing and spontaneously arranging pieces during live performance. For example, she may take a children's melody and turn it "inside-out" in the style of Mozart, then remake it as a Duke Ellington swing and then into a bossa-nova. She has experience as a studio musician and has recorded several albums: The Piano Bar (her own compositions), Carol Stein Live (traditional standards), The Piano Lady (elegant pianistic ballads), and The Jazz Lady (swinging standards with her group Stein and Friends).
Carol performed at Walt Disney World for over 32 years where she played at the world famous Rose & Crown Pub in the United Kingdom Pavilion at EPCOT, the Improv Troupe at The Comedy Warehouse on Pleasure Island at Walt Disney World Resort, and was a resident EPCOT pianist.
The live cabaret was filmed and will be available to enjoy virtually June 2–5. Virtual tickets are $20 and can be purchased by clicking below. The private link and password to view the performance will be sent via email on Friday, June 2nd at 5pm.

If you have any questions regarding this purchase, please call our Box Office at 407-645-0145 and we will be happy to assist you.